Paper.io 2 APK for Android is a territory-conquering game. You explore new lands then try to take them before other opponents.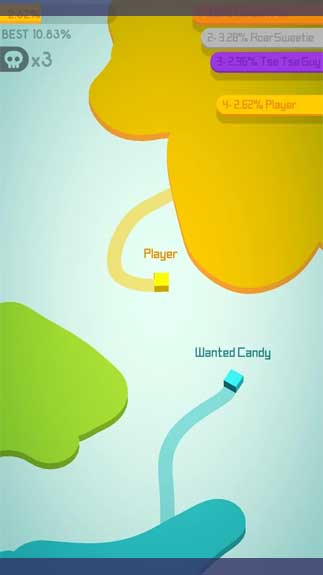 A game with a simple gameplay mechanic yet challenging to master
Although it is not a real war game, it is still attractive for its unique gameplay which is about exploiting lands. You start as a small paper but when you vanquish more lands, you can expand your territory. Try to get the biggest territory to win.
The battle that you join sounds like a large-scale one. However, everything takes place on just a map. You don't need heavy weapons to fight. Instead, you just need to play with smart strategies.
As you vanquish lands, other opponents around you may take your lands. So, you must watch out for them. Since you control a paper with a long tail to encircle around the empty space for claiming lands, you must defend your tail.
If an enemy touches your tail, the game will be over for you. However, if you touch theirs, they will be defeated, then you can take their lands to expand yours. Watch your rank as you play! You must build the largest territory to reach the top rank.
The graphical design is simple but it has more colors, making the game more impressive. Besides, the gameplay mechanic is quite unique, so you will like it. Another feature is the size of the game app that is quite light with frequent updates.
Play Paper.io 2 APK on Android to show your strategic skills!
How To Install Paper.io 2 APK for Android
First, download the Paper.io 2 file from soft4wd.com
Launch file manager on the Android device and tap on Download Files /Paper.io 2 APK.
Install "Accept the installation of unknown source". Please remember that if the device has been not yet activated, it can be set up by accessing Settings/ Safety/ Privacy/ Install Apps From Unknown Sources.
After installing Paper.io 2 APK, run the Paper.io 2 app and enjoy now!
Read more: How to install APK / XAPK file