Save and print messages on your smartphone, create backups of your contact list and calendar, or save a copy of your photos on your PC with Droid Transfer 1.45
We keep a lot of important and sensitive information on our Android smartphones and it is important to make regular backups of this data to prevent all kinds of mishaps.
To create these backups, it's always easier to work with our computers than just with our mobile devices. For example, Droid Transfer is a very intuitive program that allows us to access certain data on our phone and copy them straight to the hard drive from a clear interface organized by data type .
Main features
Installing Droid Transfer for Windows will allow users to have access to the following functions:
We can access SMS and MMS messages on our phones and save them as HTML, text or PDF.
Add to a backup the photos, videos, and emoji included in the message, as well as the time and date it was sent or received.
The app also allows us to print chats so we can have them all on paper.
Users can access the photos and music on their device with a simple click, can easily transfer any information to their computer.
It allows us to create a backup of our calendar and contact list.
We can transfer applications between different Android devices.
Make a backup and print your phone call log.
It includes a shortcut to the entire tree directory structure of our Android device's file manager.
To be able to access all these functions and information we just need to download to our smartphone an app called Android Transfer Companion and connect the phone to our computer using a USB cable with enabled USB Debugging function or connect both devices to the same WiFi network.
Screenshots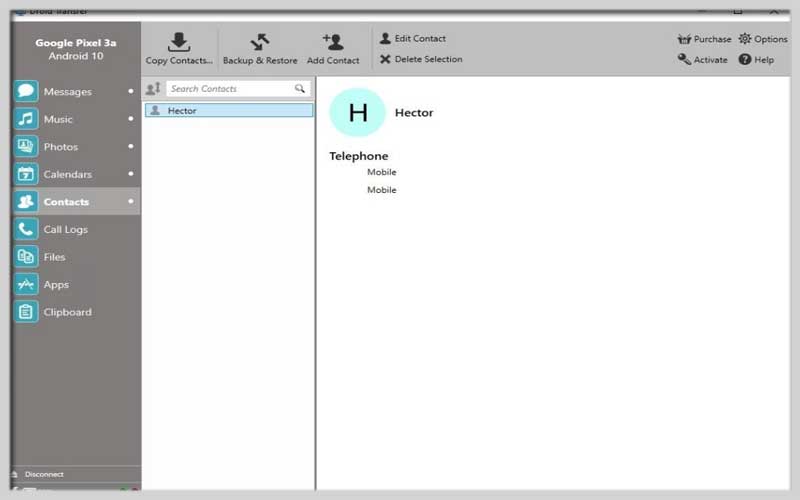 FULL SPECIFICATIONS
Publisher:
Wide Angle Software